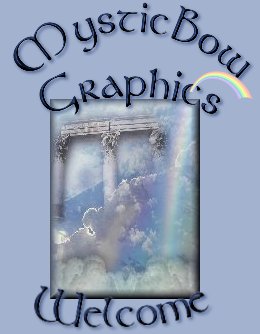 Welcome to my Mystical World of Graphics!

Here are the few rules that I have
in order for you to be allowed
to use my graphics on your site.

These graphics may NOT be used on
Sites that contain pornography,
(hard or soft core)
Sites that contain any harmful materials
Sites that contain any hate materials
Sites that contain any illegal materials
Any site that you would not allow your child to view.





Please DO NOT link
to the graphics on this site.
Download them to your system,
Upload to your site.

If you link to the graphics directly
your site will get messed up
as I will be changing the locations
on a regular basis.

These graphic sets are available
to be used FREE on
both personal and commercial sites.

I have a couple of commercial sites
and found it very difficult
to find graphics available
to use on them.
So I started to make my own.

These sets and graphics are NOT to be used
in any other collection
NOR are they to be resold.

If you would like a CUSTOM set
not to be added to my collection
you may E-mail me for information.
Please type
GRAPHIC SETS
in the subject line
or it might get deleted before read.





I would appreciate a link back to this site
so that others may find graphics too.

You may use the logo below,
or a logo matching each set

The url to link back to is
http://www.mysticbowgraphics.0me.com

Even a word link to
Mysitc Bow Graphics
would be nice.

There!
that wasn't so bad was it?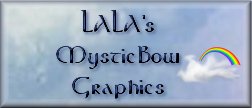 Main Page

All Webpage Designs
and Graphics on this site
are copyright
© Mystic Bow Graphics, 2000
All Rights Reserved